Veronique gwaze
Since 2019, the world has been grappling with the coronavirus, which has claimed more than five million lives worldwide.
This has been accompanied by massive economic and social shocks due to disruptions in business and commerce, including downsizing and closures.
As the curtain falls on the year 2021, we highlight some of the events and developments that have made the headlines.
church quarrels
The AFM debacle
In 2021, several disputes and splits between churches were major topics of discussion.
For most of the year, the Apostolic Faith Mission grabbed the limelight for the wrong reasons.
Instead of spreading the Word, especially during times of turmoil for mankind, church leaders spent much of their time in court, where they bitterly contested for ownership and control of property and finances. from the church.
The dispute led to a major split, which left part of the church under the leadership of Reverend Amon Madawo.
Cossam Chiyangwa led the rival faction.
The dispute spilled over to the Supreme Court.
Violent incidents involving the two "warring" factions were reported after some church members refused to return vehicles and leave church premises.
The highlight was the recent skirmishes on church property in Marlborough, where security guards allegedly hired by the Chiyangwa faction fired shots at Reverend Madawo's group as the case boiled down. .
The African Apostolic Church (AAC)
Succession disputes have also haunted the AAC this year, with founding Archbishop Paul Mwazha and some senior church members vying for succession.
Apparently 102-year-old Mwazha failed to resolve a raging succession dispute between one of his sons, Alfred Kushamisa Mwazha, and a faction led by Ernest Nhambare.
Again, the Supreme Court must have been involved, as it ruled in favor of the founding leader, who despite his advanced age was declared fit to lead the church.
However, although the case may have been settled in court, the battle for control continues.
In October, Alfred was taken to court on contempt of court after allegedly leading a pilgrimage in violation of a previous High Court ruling.
Mugodhi Apostolic Faith Church
It was the same story with Mugodhi Apostolic Faith Church, which was founded by Elijah Mugodhi in 1932.
His successor, Tadewu, died in 2019 at the age of 79.
Before his death, however, he had anointed his son Washington to take over the reins.
It didn't go well with one of the church's elders, Tonny Sigauke, who, citing the church's constitution, sued Washington.
The High Court then ruled in Washington's favor.
Sigauke appealed, but the superior court still upheld the High Court's decision.
Zimbabwe Assemblies of God Africa (ZAOGA)
Another leadership feud surfaced at ZAOGA, where a faction reportedly pushed church founder Archbishop Ezekiel Guti, 98, to name his successor.
Another faction, dubbed G40 and reportedly led by his wife, Apostle Eunor Guti, is said to be fishing to take control of the church after Archbishop Guti's disappearance.
Reports say Archbishop Guti has since left the Chisipite family home for security reasons.
While it is officially claimed that he is on a mission in the church, a source familiar with the events said he had to be moved out of the house due to the unstable situation.
Death
A number of prominent religious leaders died during the year.
Sekuru Friday Chisanyu
Sekuru Chisanyu, traditional healer and founder of the Zimbabwe National Practitioners Association (ZINPA), died of diabetes.
A traditional healer since he was in primary school, Sekuru Chisanyu was the organizing secretary and national secretary of the National Association of Traditional Healers of Zimbabwe (ZINATHA) for special events between 1998 and 2000.
He then created ZINPA, an association that represents the interests of traditional and religious healers, herbalists and midwives.
Sekuru Chisanyu later became the chairman of the Council of Traditional Medicine Practitioners (TMPC).
He was also a member of the Cancer Forum committee of the Ministry of Health and Child Welfare.
Father Emmanuel Francis Ribeiro
A longtime Catholic priest, he died on June 17 at Sainte-Anne Hospital.
He was 86 years old.
Born in Chivhu, Father Ribeiro attended Kutama and Gokomere high schools before studying theology at the Chishawasha mission.
He was ordained a diocesan priest in 1964.
He played an important role during the liberation war.
Most notably, he became a famous music composer in the Roman Catholic Church, with over 17 songs to his credit.
Father Emmanuel Francis Ribeiro
During his colorful life, he also wrote several novels.
One of the Catholic songs composed by Father Ribeiro was "Gamuchirayi Mambo Mupiro Uyu".
The priest also headed the committee that wrote the national anthem and the committee that designed the national flag.
At the time of his death he was serving under St Mary's Queen of Peace Parish in Highfield.
Sekuru Elisha Mutanga
Later in October, another traditionalist, Sekuru Elisha Mutanga, also took his last breath.
He was known for his flamboyance and outspokenness.
Unlike most traditional healers, Sekuru Mutanga wore designer costumes, styled fancy hairstyles, and consulted with clients sitting on an expensive couch.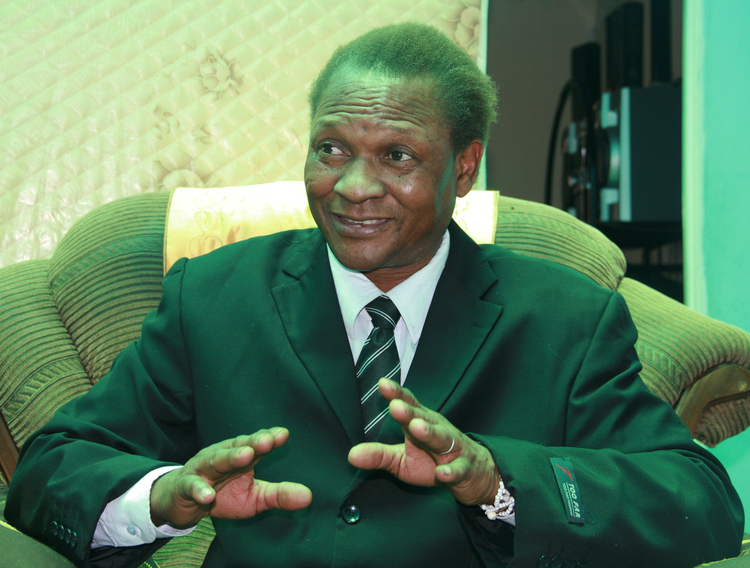 Sekuru Elisha Mutanga
He was among the first traditional healers to establish modern surgery.
He was outspoken and fought for the recognition of traditional healers.
Growing numbers of murder cases
Throughout the year, a number of gruesome killings were reported, prompting police in the Republic of Zimbabwe to sound the alarm bells.
According to the Zimbabwe National Statistics Agency (ZimStat) Quarterly Digest, in 2011, 764 murder cases were recorded in Zimbabwe before the numbers climbed to 1,067 in 2017.
In 2018, the numbers had increased to 1,453 and 1,733 in 2019.
While some of the killings were fueled by family conflict and drug abuse among others, some of them were committed for ritual purposes.
In July, a Banket teenager was arrested for the alleged ritual murder of a five-year-old girl.
Barely a month later, two Nyanga miners, Melissa and Daniel Benza, were murdered in an alleged ritual murder and thrown into the disused toilet of an abandoned farmhouse with deep cuts to their necks.
Earlier this month, police arrested four men in Tsholotsho who were suspected of being behind a series of ritual killings.
Another suspect, Philemon Chikata, was arrested in Nyanga for an alleged ritual murder involving a minor.
These murder cases also brought to mind the gruesome murder of miner Murehwa Tapiwa Makore last year.