A 6th-century Byzantine ivory pyx depicts the women at the tomb of Christ. (Metropolitan Museum of Art)
The recently enacted apostolic constitution Evangelium Predicate has been a pleasant surprise to many, especially with regard to the leadership positions in various dicasteries of the Roman Curia which are now open to baptized men and women of all vocations and categories. It inspires me to share my thoughts on the scriptural basis for ministries involving all the baptized.
I firmly believe that the early church was a feminist movement, even though its mission was not limited to feminism.
In the Gospel of Luke, Martha and Mary (10:38-42) are followers of Jesus and love him in their own way. Martha, to me, represents the "relatively conservative" section of the early church, which expects women to take on traditional roles in serving the Lord and is troubled by her progressive views. Mary, her sister, represents the feminist church as envisioned by Jesus.
Or maybe the two represent the church at different points on the broad spectrum of feminism. Some scholars describe Martha as an important leader which has not received due attention. Using different senses of interpretation of Scripture, such as literal or allegorical, the Church Fathers have varied thoughts on this passage. As soon as possible comments, as in Origen, the two sisters represent the old against the new law, or Judaism against Christianity. Commentators are not unanimous in their opinions.
Jesus comes to bring abundant life to all (John 10:10) and wants men and women to be liberated from patriarchy. This can happen when the victims are freed from domination and when the oppressors are converted and freed from sin. However, the followers of the early church came from a variety of backgrounds, had different occupations, and had different relationships. Not everyone is comfortable with women serving as leaders.
As a result, "history" is mostly unwritten, distorted, or erased by men from scripture as well as tradition.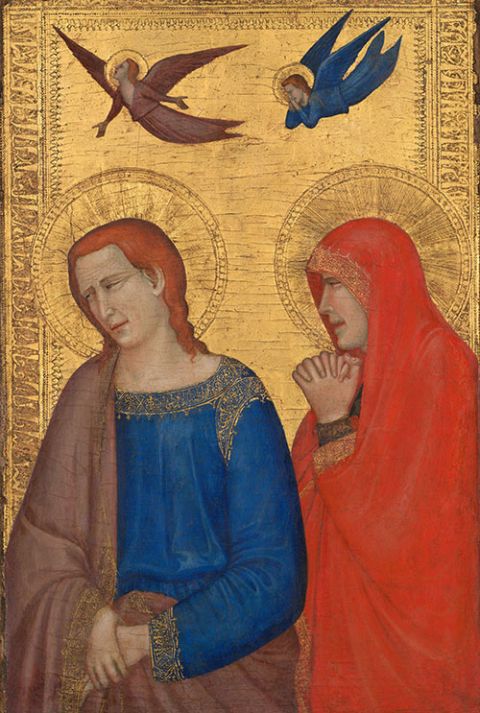 Sts. John the Evangelist and Mary Magdalene, in a painting by a Neapolitan follower of Giotto, c.1335-1345 (Metropolitan Museum of Art)
Take the example of Mary Magdalene, the Apostle of the Apostles. There is a lot of literature, both factual and fictional, about his life. Scholars debate a theory that she is the beloved disciple and founder of the Johannine community.
most scholars study his personality, the more they realize that his true image is disfigured and erased. Over the centuries, she became confused with various other personalities such as Mary of Bethany (Luke 10:38-42), the sinner who anoints Jesus (Luke 7:36-50), and others.
I think over the millennia, men have suppressed women by gossiping about them and projecting their greatest strengths as their greatest weaknesses. On the other hand, Mary, the mother of Jesus, although supposed not to enjoy a good reputation according to some scholars, is then represented as a symbol of purity due to her immaculate conception and the virgin birth of Jesus. She receives the title of "Mother of God".
Is it because of the differences in the personalities, ideologies and relationship of the two Marys to Jesus?
Mary Magdalene has a very important role in following Jesus, but she is excluded from the Twelve Apostles while Paul boldly calls himself an apostle of the Gentiles (Romans 1:1; 11:13) although he was not a disciple of Jesus before his death and resurrection.
Paul collaborates with several women and praises them (Romans 16; Philippians 4:2-3; 1 Corinthians 16:19). Him and John Chrysostom mention an apostle named Junia. The feminine identity of this individual is supported by studies. Nevertheless, scholars are ambiguous as to whether Paul is a feminist or against equality for women in the church (Galatians 3:28; Colossians 3:18; 1 Corinthians 11:2-10).
As I explore this topic, I am intrigued by the ambiguities regarding the roles played by women in the Bible. Similarly, academics appointed by Pope Francis are unable to reach consensus on the role of women deacons in the early church.
I think "the seven" mentioned in the Acts of the Apostles (6:1-6) should, logically, include women because of the very purpose of the service. Several wealthy women are already supporting the ministry with their own resources (Matthew 27:55; Luke 8:1-3) and offer their homes as house churches (Philemon 2; 1 Corinthians 16:19; Acts 16:15; Colossians 4:15). These women leaders are certainly very influential. So why should their funds go into the hands of male leaders and then be given to poor widows?
It is a universal fact that widows suffer gossip trauma, and suspicion is raised when they interact with men, especially in conservative societies. The pastors would have liked to avoid this. Wouldn't it be convenient for the daily food distribution to be women-to-women (1 Timothy 5:11-16)?
Or is it because, like male apostles, women leaders realize their own priorities and wish to delegate ministry? Or because the Hebrew-speaking Jewish women among them tend to overlook the Greek-speaking Jewish widows, and these attitudes undermine the potential of women, thus triggering the counter-choice of male leaders (1 Corinthians 11:17-34)?
From another point of view, seven "men" or Andras in Greek language (Acts 6:3) could refer to both men and women. Even the Nicene Creed from AD 325 uses the words "which for us men and for our salvation" to represent all the baptized. Precise historical details regarding the identity of the "seven" are not available. They are not called deacons. Although their ministry was originally created by the apostles to save time and devote themselves to the ministry of the Word, Stephen gave talks (Acts 6:10, 13-14) and Philip is called an evangelist (Acts 21:8). Women deacons are however mentioned in other parts of the Bible (Romans 16:1).
The names of the "seven" in the New Testament could refer to the families to which they belong. In several cultures (including mine, which probably has Jewish ancestry according to genetic studies), when referring to an individual or family in a public gathering (as happened when asking to the multitude to select "the seven"), only the name of the chief by whom the family is known is mentioned. For example, "A son is born to Naomi" (Ruth 4:17). The 12 tribes of Israel are represented by men but include all other men, women and children (Joshua 4:4; Ezekiel 48:1-7). It could also be to show fairness in the selection or distribution of opportunities and duties to each tribe.
The head of the family receives the blessing vicariously for his members. In my opinion, some of the seven names could indirectly refer to their daughters (Acts 21:8-9), sisters, mothers or other relatives. They could even refer to couples or all of their family members selected for service.
Various ministries in the church today could be understood from this perspective. Whenever pastoral leaders are chosen and blessed, consecrated or ordained, they receive a special grace on behalf of others in their church circles. They are called to animate the whole community to participate actively in the mission entrusted to it.
To conclude, the early church surely had women serving in important leadership roles in conjunction with male disciples because Jesus wanted to be egalitarian and liberating, but gradually his feminist push was watered down. More on that another time!
Do you like what you read ? Sign up for GSR eNewsletters!